Plumeria Hill Bed & Breakfast
Victorian Elegance in a Tropical Setting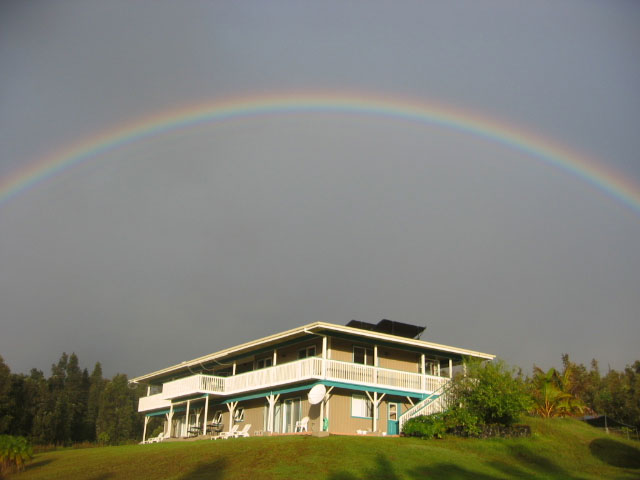 13-1264 Kamaili Road
P.O. Box 1504
Pahoa, HI 96778

(808) 965 – 2225
Fax (877) 611 – 1126
(651) 644 – 7447 mobile
(612) 562 – 6493 text

(please call for information or to reserve)














stay@PlumeriaHillBB.com
Near (but not too near) where the lava was flowing into the ocean (Lava viewing availability is unpredictable)
All of our three guest bedrooms include individually controlled Sleep Number® beds in antique frames
Each guest suite has a private bathroom with a shower
Each suite has a refrigerator and microwave
The larger suites have a wet bar
The Victorian Rose King suite is filled with a matching handcarved French bedroom set,
including a grand armoire, with white marble crowning the dresser and bedside stands from the late 1800's. The bed is King-Size.
The Ocean Blue Twin suite has a gorgeous matching antique twin bedroom set, including desk and dressers from the 1920's
The Malie Single bedroom has a sliding door to the upper lanai to access the ocean view
Housekeeping is offered upon request
High Definition Flat Screen Dish Network TV in Every Suite
Internet connection at a desk in each bedroom, plus wireless access
We wish to be in harmony with your dietary needs or allergy issues
A ceiling fan in every room
Comfortable and accommodating
Peaceful atmosphere to relax and renew
We intend to make your stay delightful
No guest pets. Innkeepers have two cats that stay outside.
No smoking anywhere on the property or you shall be asked to leave, and receive no refund.
Our facility is not designed to accommodate young children.
Children age 13 and older are welcome.
All overnight guests need a confirmed suitable sleeping arrangement, not on the floor.
Extra beds are not available. There is no capacity for extra beds in the room.
We prefer arrival time between noon and 2:30 pm.
Arrival timing can be flexible when you keep us informed, and must be confirmed in advance to receive keys to your suite.
Check Out by 11 am.
Open All Year
$130 per night for the Rose King or Blue Twin suites, single or double occupancy, plus 13.416% general excise and accommodations taxes
add $75 for a personalized Romance Package, plus 13.416% general excise and accommodations taxes
$75 per night for the Malie Single bedroom, plus 13.416% general excise and accommodations taxes
Rates are for a two (2) night minimum stay
A one (1) night stay requires a $15 per person service charge, plus tax
Check Availability
Reserve the Dates




Sometimes accommodations may be available and are welcome with very short notice.
Please call (651) 644-7447 to inquire.

Please secure and confirm your reservation with Visa, MasterCard, American Express, or Discover credit card.

During local events and limited availability, nightly pricing includes an additional $15 per person.
(example: annual Merrie Monarch Festival)

Prices are subject to change without notice. Rates for confirmed reservations will not increase. Prepayment must be in full.
Each booking is reviewed before processing.
You may request to prepay by cash or check, if your payment will arrive in less than seven days after booking the reservation with your credit card.
Once scheduled, it is considered reserved and obligated, regardless of when the payment submission process is completed.

We would like to, and if we are able to rebook a cancelled date, you may request a refund to your credit card, minus a $25 processing fee.
If we are unable to rebook a cancelled date, a refund is not possible.

Check Availability
Reserve the Dates

Please email info@plumeriahillbb.com for more information

Call for more information or to reserve your suite.

13-1264 Kamaili Road
P.O. Box 1504
Pahoa, HI 96778

(808) 965 – 2225
Fax (877) 611 – 1126
(651) 644 – 7447 mobile
(612) 562 – 6493 text

Susan and Dennis Carter


We loved sharing our Bed and Breakfast in Minnesota from 2004 through 2010.
For 2 years we planned our 2010 transition to paradise.
Many guests intend to stay with us now that we have arrived.